*This post may contain affiliate links. As an Amazon Associate we earn from qualifying purchases.
Everything a Bride Needs to Know About Enhancing an Engagement Ring
Are you recently engaged?
Well, let us start by saying congratulations! This is bound to be one of the most exciting and stressful times in your life.
If your head is already spinning at the sheer number of decisions to make…just relax.
Grab a cup of tea, sit down, and let us walk you through the ultimate guide on how to make that special ring sparkle even more.
Is a Band the Same Thing as an Engagement Ring?
You may be confused about the idea of a wedding band. How is it different than a wedding ring?
Well, it all comes down to the term engagement ring and if you're intending them to follow the old school gender rules or not.
For the sake of history let's take a look at both.
Traditional Male Wedding Band
For men, traditionally, the wedding band doesn't come into play until after the marriage.
It seems a little unfair and that's because it is.
Generally, men don't get an engagement ring and are instead given the full wedding band at the ceremony itself.
Traditional Women's Wedding Bands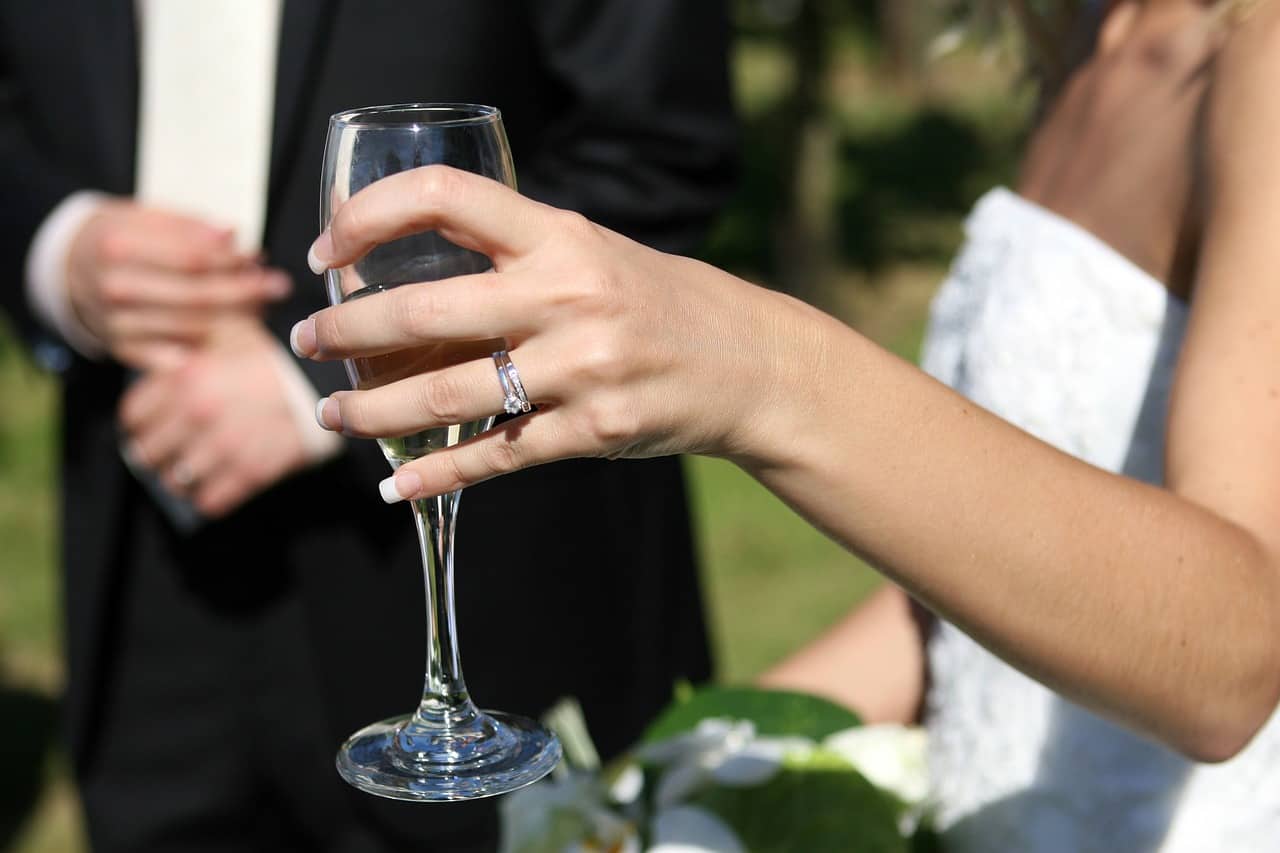 Wedding bands for women are usually quite different.
That's because women receive an engagement ring that they get to wear from the point of the engagement onward.
Heck, you could get engaged one day and never take that ring off of your finger for the rest of your life. Okay, we're being dramatic but you get the point.
Once you've had the wedding ceremony, in the most traditional sense, the women then get a second ring called a wedding band to wear alongside the engagement ring.
The History of I Do
An Ancient Egyptian Wedding Band – Image CC by 3.0, bequeathed to Walters Art Museum by Henry Walters via Wikimedia Commons
Although the idea of an engagement ring and separate wedding band is a newer ideal, the history of wedding rings themselves dates way back.
We're talking like way, way back in the times of ancient Egyptians.
In fact, ancient Egyptians were so woke that they didn't differentiate between male and female rings.
What Do They Mean?
Back in ancient Egypt, wedding bands were exchanged for the purpose of expressing your love.
It's true; in fact, most rings, that featured hieroglyphics, had transcriptions depicting undying and eternal love.This endless love was symbolized by the circle on the finger that had no open and no close.
Cute, right? This symbolic meaning is still very much believed today.
It's Made of What?
When selecting a wedding band you're going to want to start with the type of metal before you go into the types of wedding bands.
The metal your ring is made out of is where almost everyone starts.
What is most common is for people to choose the same metal type as their engagement ring.
That being said…mixing and matching metal types has become a super fun trend we'll touch on later!
For now, we'll explore the most common metals for different types of wedding bands:
Gold
Gold has been popular for wedding bands since wedding bands were invented.
What's interesting about gold is that it can come in many different shades such as white, yellow, and rose.
If you want a strong gold we recommend opting for white gold as it's often mixed with extremely strong metals such as rhodium.
Silver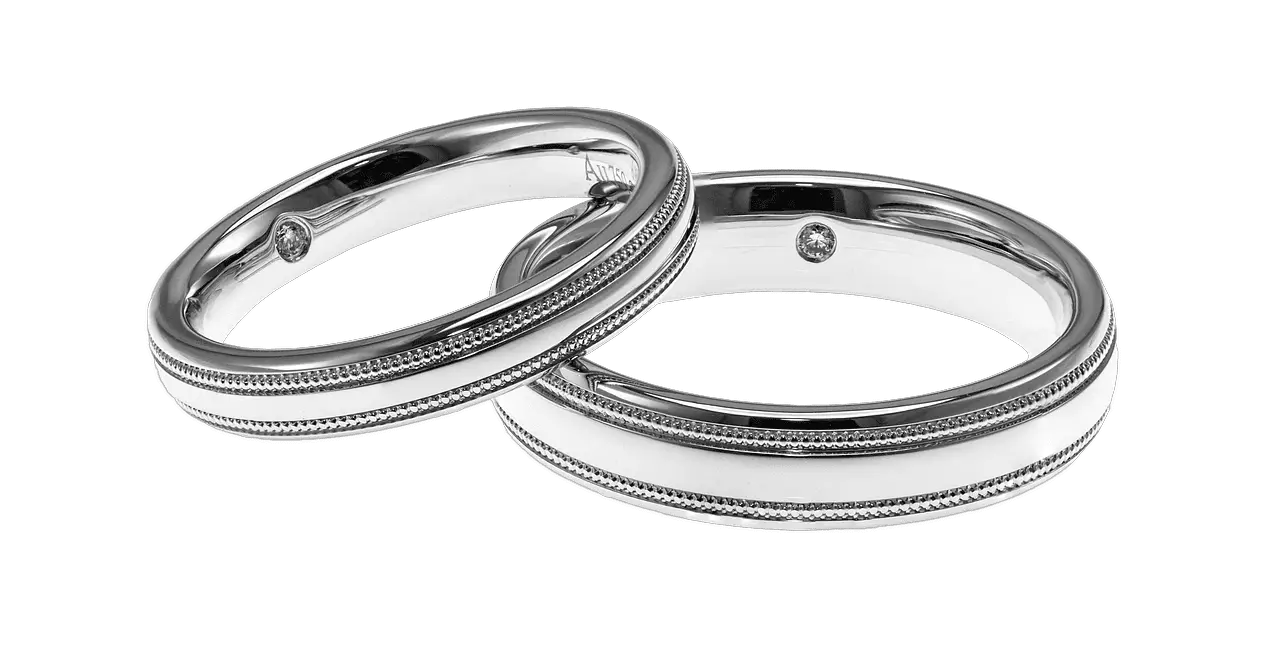 Silver's popularity for different types of wedding bands ebbs and flows year after year.
One year silver is in and one year it's out.
What we do know is that silver is just a color and could be any of the following metal types:
White gold

Mixed gold

Platinum

Palladium

Titanium

Tungsten carbide

Stainless steel
If you want an extremely durable wedding band we recommend titanium as it's lightweight and a gorgeous shade of silver.
Platinum
Platinum wedding bands are one of the more expensive options you can opt for.
What makes this metal so expensive is its superior quality and strength.
Platinum won't oxidize or corrode.
The best part about platinum? It can continually be shined to bring back its brilliance year after year.
Types of Wedding Bands: Time to Pick Your Style
Ready to find a style that matches your personality and perfectly accents your engagement ring?
Girl, we are ready too!
Take a look below at some of the most classic types of wedding bands and styles you can choose from:
Minimalist
The minimalist design is great if you want to keep the focus on your main piece.
Most minimalist designs have clean, simple, lines with not too much bling or flare.Sometimes a minimalist band can make an engagement ring really pop in a unique way.
Matching
Although mixing styles seems to be a trend this year, matching your wedding band to your engagement ring is a safe bet.
Chances are, if your ring was recently purchased, the jeweler can make you a matching set.
Matching doesn't have to mean identical either, you can simply use the same styles, shapes, or even metal type to mimic your engagement ring.
Enhancers
A ring enhancer is used to add a little more pizazz to your engagement ring.
Most enhancers surround the ring on both sides with added bling.
That being said, it's not uncommon to see an enhancer only enhancing one side of the ring.
All you really need to know is that if it adds bling or it changes the shape, it's likely an enhancer.
Diamond
One of the most popular, and the most expensive (go figure), wedding bands is a diamond band.
Diamond wedding bands are exactly what the name suggests, a wedding band of diamonds.
Most diamond bands have diamonds running the entire length of the ring.
This style is a classic and one you'll likely see on your parents and grandparents fingers.
Styles for the Unique
Are you one of those types that think popular is boring?
Well, we have a treat for you.
Wedding bands can be as unique as you are because really, anything that makes you happy goes. After all, you're the one wearing it on your finger day after day, not anyone else.
If you want some ideas to get you started, check out some of our favorite, unique, styles on different types of wedding bands:
The V Wedding Band
Wedding bands with a distinct "v" in the middle can be a striking touch to almost any style of engagement ring.
Not only is it a little edgy but you can make it thick, thin, covered in diamonds, bare; you name it!
Again, the sky's the limit.
The Crown Wedding Band
Wedding bands in the shape of a crown or tiara add a sweet and feminine touch to any ring.
What we love about this trend, in particular, is that the crown can be as simple or elaborate as you want it to be.
Some of these crown styles can be so subtle in design that they almost remind us of henna tattoos.
Latest Trends and Styles
Are you someone that likes to stay on trend even when it comes to your wedding band?
Don't worry, sis; we've got you covered.
Below are two of the latest trends to hit the wedding band scene. Incorporating these into your design will be sure to gain you a few extra Instagram likes.
Mixing Metals
We know what you're thinking and no we're not crazy.
Mixing metals is the latest trend among wedding rings and bands.
No, we're not talking about bright silvers and yellow golds.
When done right, mixing metals can add depth that you often miss when you're all monochromatic.
Rose Gold
Rose gold is a gorgeous, new, pink-toned metal that only seems to gain in popularity each year.
Not only is rose gold a feminine choice but it's also a great undertone that flatters many skin tones.
We don't see rose gold going away any time soon.
What It Will Cost You
When thinking about what types of wedding bands to consider you have to think about the price.
We know, we know; it's not fun to think about the price point.
However, it's an important fact that often indicates quality and durability.
The more expensive a metal type the more durable it's bound to be. If you want something that's hypoallergenic, lightweight, durable, and more you are gonna have to pay the price to get it.
This Isn't Cheap Either…
Is your heart set on having diamonds in your wedding band?
If so, you should know that diamond bands will be a lot more expensive than you think.
Sure, you may see a band in mall window for less than $500 but that usually means you're getting poor quality diamonds.
The price of a diamond depends on its quality. Still not sure what we mean by that?
Check out GIA's article on Diamond Quality Factors:
https://www.gia.edu/diamond-quality-factor
Don't Forget These
Before you go out and start shopping just yet there are some things you'll want to consider.
No, we're not talking about price again, we're talking about things much more important.
Heed our advice below and you won't be sorry:
Metal Allergies
Has your finger ever turned green or black after wearing a ring? If so, you may have a slight metal allergy.
That's right, that weird residue on your finger is the result of a minor allergic irritation.
Don't be afraid to get an allergy test to avoid the metal in question or you can simply have any ring professionally clear coated to protect from that.
Fade
Let's face it; some colors simply can't help but fade over time.
If you are using your hands a lot, expect your ring to scuff and fade over time.
Opting for a white gold ring allows you to re-plate the ring when the surface is too worn.
Softness, Scratches, and Dents
Lastly, one of the things you'll want to consider is the softness of the metal you are choosing.
Some metals, like yellow gold, are softer than others and as such can dent and scratch easier.
If you use your hands a lot opt for a metal type that's more durable and resistant to everyday wear and tare.
Design Considerations
We know you want to pounce on every Pinterest board imaginable right now but…patience is key.
Before you go out and start narrowing down on a design and style, consider the following three points:
It Won't Be Popular Forever
Remember how we said that silver comes and goes in terms of being in style?
Well, that goes for every other metal color and type too.
This is why we always recommend that you simply pick what you like best. Again, this is your finger the ring is on, not anyone else's.
Colored Diamonds and OOTD's
Colored diamonds are an amazing and unique choice for wedding bands and engagement rings.
The only problem we've seen with them is that the larger the diamonds or gems, the harder is it to match them to outfits.
While we love a crisp, yellow, diamond, matching that with a red top just leaves us feeling like ketchup and mustard.
Matching Your Style
Along the same lines as the colors you choose comes the style you choose.
If you go for something over the top and blingy get ready to try to pair that with jeans and a t-shirt.
Most people don't care but if you're a fashionista it's certainly something to consider when picking your design.
Time to Protect It
After you've gone through all of the trouble to design your wedding band, when you finally have it on your finger, you have to protect it.
There are a few ways you can ensure your new wedding band stays safe and insured.
Keep reading to learn how to protect your future wedding band:
Double Checks
Many jewelers will offer to check and clean your ring for the lifetime of your ownership.
This is great especially because most jewelers will double check your settings to ensure everything is tight and secure.
There's nothing like some free peace of mind.
Insurance
Claiming your wedding band and engagement ring on your insurance is an important step in ring safety.
Doing this can often mean getting the funds to replace your ring should something happen.
That could be huge for if you're the forgetful or clumsy type.
Regular Cleaning
Another great way to protect the metals and stones on your ring is to clean it regularly.
How often you clean your ring, again, depends on your metal type and how often you're using your hands.
The general rule of thumb is to clean your ring once every two weeks if you're wearing it every single day. That being said, if you're taking it to a jeweler to clean shoot for every six months.
How do you clean it you ask? Well, that leads us to our next section…
How to Clean Rings
Cleaning your wedding band at home is easy.
All it takes is a few simple supplies and patience.
Just make sure to read our section on what not to do later on too!
Dish Soap DIY
One of the simplest methods of cleaning a wedding band is to soak it in some warm water with a little bit of dish soap.
Let the ring soak for approximately 15 or 20 minutes and then take it out.
We suggest you rinse the ring thoroughly and use a small, soft jewelry brush if needed.
In-Store Option
If you're not much of a fan of DIY's you can always purchase a jewelry cleaner in-stores.
Some jewelry cleaners even claim to reduce the appearance of small scratches like Connoisseurs Precious Jewelry Cleaner:
https://www.target.com/p/connoisseurs-174-precious-jewelry-cleaner/
You can find jewelry cleaners almost anywhere. We recommend your local cosmetics aisle at the grocery store and Target!
Don't Do This
So, you know what to do to keep your ring safe; but, do you know what not to do?
Metals and precious stones, although hard, can become damaged if handled incorrectly.
Most people who accidentally damage their rings do so with the use of the wrong cleaning supplies.
Imagine thinking you're cleaning your ring when in all actuality you're breaking down the metals and scratching the stones.
To avoid this drama we recommend you avoid doing any of the following:
Cleaning Nightmares
One of the things you'll want to avoid above all else is using an ultrasonic jewelry cleaner.
Maybe you saw one at the store and thought, how neat! Well, they do work to shine metals but the movement of the machine can easily dislodge stones.
Another way people accidentally wreck their rings is by using harsh chemicals like bleach, chlorine, baking soda, and acetone.
Our suggestion? Leave the chemicals alone and try our gentle dish soap method above.
Okay, Let's Shop!
If you're one of those lucky ones that inherited a ring, you may be at a loss of where to buy a matching band.
If the jeweler isn't around anymore don't fret; there are a ton of options available to you.
With so many jewelers out there all we can recommend is that you do your homework before heading into the shop. Customer reviews on Google and Yelp will help you weed out the less ideal locations.
Although we really recommend trying on some rings in the store, If you want to shop online, we can suggest checking out the following retailers:
James Allen
James Allen has a huge collection online and a ton of great customer support.
Browse through tons of designs, styles, metal types, stones, and more.
The best part is, they have a wide range of price points to fit almost any budget.
Check them out at https://www.jamesallen.com/ese/?q=wedding%20band
Custom Shop
Have you seen a local jeweler in your neighborhood? If so, popping your head in an inquiring about wedding band prices can't hurt.
Sometimes some of the most striking bands are custom made and can be more affordable than something you'll find in stores.
If you have a vision you want to be made real, opt for the custom route! You'll be glad you did.
Etsy
We know it may seem strange, but Etsy is a great place to find unique wedding bands.
This website, originally renowned for its hand-made goods, is a treasure trove of designs, shapes, styles, and more.
Plus, you have the ability to contact the craftsmen directly to inquire about changes, modifications, quality, and more.
Prices can range anywhere from $20 all the way to thousands featuring real diamonds and premium materials.
Check out their impressive selection here: https://www.etsy.com/no-en/search?q=wedding%20band
Ready for More?
Want even more? We don't blame you.
Check out some of these additional wedding band resources below:
Websites and Articles
Videos
The Ring to Rule Them All
You finally know everything you need to know to pick out a wedding band you'll love!
Just remember to keep the quality and style in mind and you'll be sure to enjoy your band for years to come.
Now, what are you waiting for? Get those Pinterest boards out and get to shopping!